MDM & KPNO covid-19 Response and Planning Protocols
This page serves as the central distribution hub for all planning and protocols associated with the resumption of staffing and science operations at MDM as well as KPNO as a whole. Check back regularly to see if anything has been updated.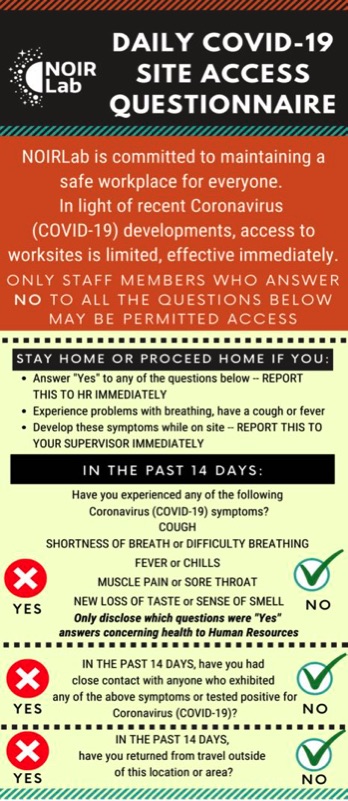 NOIR/KPNO have issued a broadly-covering set of protocols detailing the various aspects of the steps necessary for operations to return to pre-pandemic levels. Below are links to the various documents released over the week starting 17Aug2020. These links will be updated as necessary. Check them regularly, particularly the one immediately below as it details the current status of KPNO.


Facility Status Update [13Mar2022]
MDM Observatory has been granted approval for on-site observing by faculty and students to recommence! At this time, we are limited to seven (7) observers on-site at any given time. 1.3m operations can be performed remotely or locally while 2.4m observations may be added to scheduled queue time when travel is not possible If travel is not yet possible, scheduled time that would go unused will be returned to the pool. Please contact the Site Manager with any questions.
Mask restrictions have been eased. See here for more information.